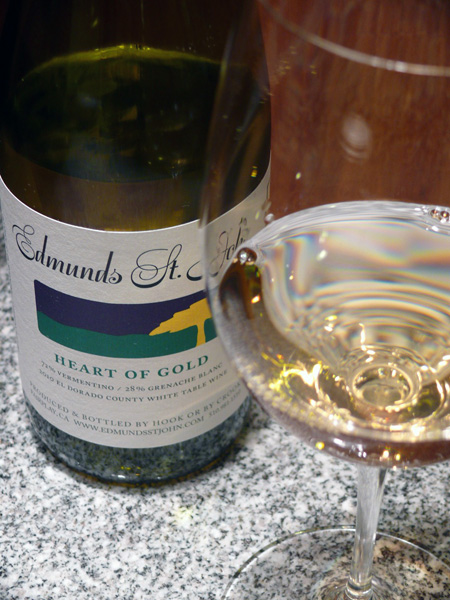 Edmunds St. John
Heart of Gold
2010
12.9% ABV | Price: about $20

This wine is a blend of 72% vermentino and 28% grenache blanc. It's its third vintage, made from grapes planted in 2005 on east and north facing slopes of the rocky Rome Vineyard, at 2,800 feet elevation. Harvest occurred in mid September and the fruit was whole-cluster pressed into stainless before undergoing a cool fermentation. The wine remained on gross lees until February and was bottled in mid March. Two hundred and sixty cases were produced.
The color is deep gold, which is striking for such a young wine, although it does have a faint greenish tinge. Restrained aromas of ripe pear and pineapple mix with faint notes of fresh grasses and mint. It has a pleasant acidity with a lean, minerally grit on the palate—that's the vermentino talking—but this is balanced by some fatness from the grenache blanc.
These two grapes are strange bedfellows, but they mingle and interplay well here, yielding an extremely versatile, food-friendly white that would be wonderful with fresh cheeses, risotto, seafood, and poultry.