I first encountered the wines of Ryme Cellars in early 2014, for a story I was doing for Serious Eats about winemaking couples. Co-owners Megan and Ryan Glaab had launched their winery in 2007 with a single ton of Aglianico, and in 2011 expanded their operations to work with fruit from some additional niche vineyards.
My first taste was of their 2012 vintage, not long after they started scaling up. I was struck by the wines' elegance and freshness, but also by their sheer inventiveness — particularly the playful "His" and "Hers" Vermentino bottlings, the former with skin contact, the latter without. In April 2014 I managed to snag a visit with the pair in their tasting room in Forestville, California, but I'd lost touch with the wines over the last few years. A couple of weeks ago I returned for a fresh taste.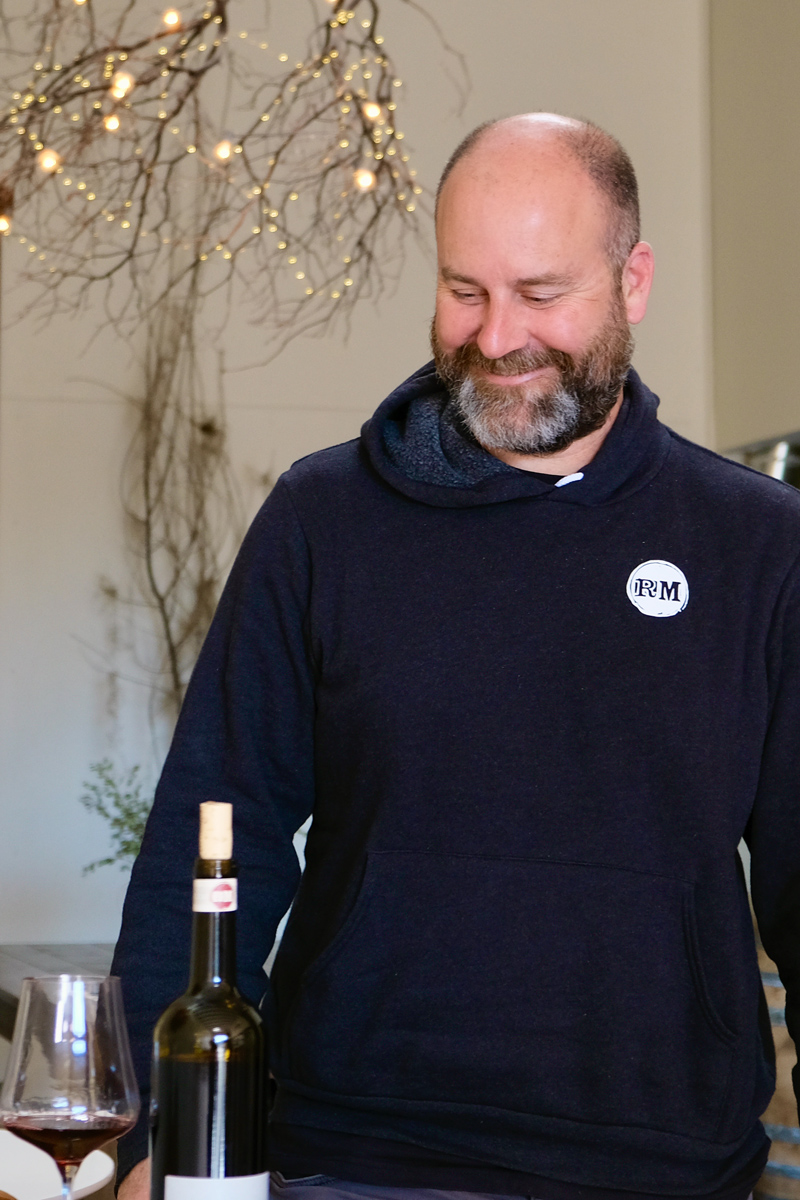 Ryan Glaab welcomed me and my colleague, Erica Duecy, pouring eight wines from their lineup. Now in their sixteenth year, Ryan and Megan lean on Italian varieties like that Vermentino, plus Fiano, Aglianico, Sangiovese, Montepulciano, and more, although there's also a smattering of Bordeaux varieties and a Pinot noir. They source grapes from sustainably farmed, organic vineyards around the North and Central coasts and Sierra Foothills, and let the fermentations roll along with ambient cultures. They often include stems (for the reds) and skins (for the whites) and treat some wines to carbonic maceration, but they never use adjutants and don't fine or filter. Aging is in neutral oak.
In short, it's a light-handed approach that spotlights the fruit. I asked Ryan if he calls it "natural" winemaking. He smiled and shrugged.
"We just make the wines we love to make," he said. "If a sales person or customer wants to say 'natural,' that's okay. We've always said 'low intervention, and focused on experimental production and varieties.'"
The couple currently makes twenty different bottlings, which add up to 5,000 cases. Their Vermentino and Aglianico rosé anchor the collection at about a thousand cases each. Ryme sells seventy percent of their wines direct, while the rest goes into the wholesale market, mostly in California.
I found the reds to be peppery and refreshing, the skin-contact and rosé wines peachy with nice astringency, and the single white poured (not shown) bracing and clean (find my notes on each wine below). It was especially interesting for me to have let so many years go by without tasting, because it provided a clear view of the wines' evolution. Although they were always well-crafted, the newer wines seemed more characterful somehow. If they were people, I'd call them relaxed and self-confident.
That's perhaps a reflection of the Ryme philosophy writ large, which trusts and honors the fruit. "I think the wines are more interesting if you let them go on their own," Ryan said. "It's all about raw material — the vineyard, the beautiful site — and letting the process unfold."
Tasting Notes
2022 Ryme Cellars Vermentino Hers Las Brisas Carneros ($27): Green apple, lime, and bay leaf, with a pleasant bitterness characteristic of this grape.
2021 Ryme Cellars Aglianico Rosé Heringer Vineyard Clarksburg ($26): Watermelon fruit with juicy, bracing mid-section and bright finish.
2021 Ryme Cellars Sangiovese Friulano Fox Hill Vineyard Mendocino ($26): A red/white blend of Sangiovese (85 percent) with Tocai Friulano treated to some carbonic. Pretty, lightly cloudy deep rose color with a sense of strawberries and rose hips.
2021 Ryme Cellars Fiano Skins Rancho Coda Russian River Valley ($42): Orange wine redolent of yellow apple, peach, and bitter almond; textural and savory.
2021 Ryme Cellars Sagrantino Siletto Vineyard Cienaga Valley ($35): Red fruits, black nut; big-hearted with a grippy finish.
2021 Ryme Cellars Montepulciano Siletto Vineyards Cienaga Valley ($35): Lively herbal-menthol aromas with a minty-savory, red cherry mid-section and peppery finish.
2021 Ryme Cellars Merlot Massa Vineyard Carmel Valley ($45): Lovely leafiness with firm, astringent tannins and juicy red berry fruit.
2019 Ryme Cellars Aglianico Camino Alto Vineyard El Dorado ($42): Rounded, mouth-filling black and red fruits with chewy tannins and glints of green olive.
All wines were samples for review.