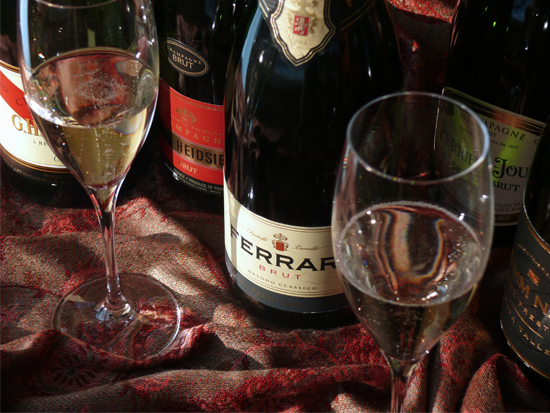 It's nearly New Year's Eve, and in the run-up to the big night I've been tasting sparkling wines in earnest. (I know—tough job.)
I've focused on bubblies made in the Champagne style, dubbed Crémant elsewhere in France and méthode traditionnelle everywhere else. I have nothing against tank-made sparklers like Prosecco, which deliver clean, spirited fun for a modest price. But I love the depth and complexity that develop during secondary fermentation in bottle and aging on lees, and find traditional method wines enchanting companions for a festive winter night.
Pinot noir is the basis of most of the blends I've been tasting, and while those often have notes of red berry fruits, these lean pleasingly toward bracing citrus and apple. Piper-Heidsieck's Grand Brut is a perennial favorite, with glistering acidity and a bewitching creamy mousse. I loved the spreading, earthy nuttiness of the G. H. Mumm Grand Brut, a gastronomy wine that can move seamlessly from appetizer to cheese course. And the Perrier-Jouët is a dazzler: mercurial and complicated, it demands slow sipping.
Chardonnay dominates just two of the wines. This style often has a sharper cut than pinot-centric blends, and I found some happy surprises. Bertrand's Crémant de Limoux is 70% chardonnay with a dollop of chenin and mauzac, and these blending grapes lift the wine and bestow exotic peachy-floral top notes. Ferrari's Brut is 100% chardonnay, but the savory, leesy house style imbues the wine with heft and gravitas.
All of these wines are fully toast-worthy, with ample elegance to help you ring in the new year in style.
Mumm Napa
Méthode Traditionnelle Brut Prestige NV
51% pinot noir, 46% chardonnay, 2% pinot meunier, 1% pinot gris
12.5% abv | $22 (media sample)
Lively bubbles carry bright notes of citrus fruits and pineapple to the wine's pale gold surface. Medium-textured on the palate, its sparkly effervescence fizzes quickly into tart green apple. These juicy fruits complement a touch of biscuit and cream, likely earned from eighteen months of lees aging and three months on cork before release. An effortless, spirited wine of great clarity.
Gérard Bertrand
Crémant de Limoux Brut 2010
70% chardonnay, 20% chenin, 10% mauzac
12% abv | $19
The fruit for this cuvée was harvested in high vineyards of the Aude valley in southern France, a cool mountain zone that helps preserve the wine's acidity and freshness. It has a bright yellow color and zesty aromas of citrus, green fruits, yellow apple, peach, and biscuit. It's fruity but dry, with very little hint of savoriness and copious coarse bubbles. The finish is all peach nectar. This wine feels clean and refreshing—not quite precise, more simply pure.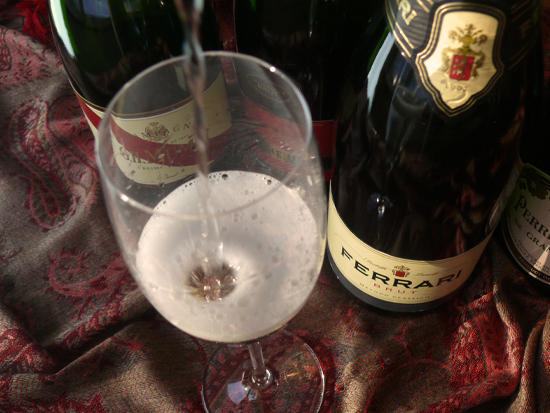 Piper-Heidsieck
Champagne Grand Brut NV
Pinot noir dominates
12% abv | about $40
An electric yellow color, the wine has copious pearlescent mousse that offers bright tropical citrus aromas bass-noted by hints of Brie and yeasty biscuit. Its lovely medium-creamy texture has flavors of crisp green apple, citrus, toast, and brioche. There's glittery acidity, too, and a bracingly clean finish. Elegant and filigreed, it's perfect alone but swoon-worthy with bloomy-rind cheeses.
Cantine Ferrari
Trentodoc Brut NV
100% chardonnay
12.5% | $24
Another cool-climate mountain wine, this one grown at nearly 1,000 feet elevation in Italy's Alpine province of Trento. The Brut is aged at least 24 months on lees, endowing the wine with meaty savoryness. Glimmering gold with tiny skeins of bubbles, there are aromas of cured meat, brioche, and gorgeous green fruits, especially lime. The texture is creamy but it has a lively mousse, and there are flavors of crisp green apple, Prosciutto, citrus, and bread. I was a guest of Ferrari in Italy this fall, but I bought this bottle locally, and the storekeeper said it had been on the shelf for a full year. Knowing the younger wine, I think the extra bottle age greatly enriched the wine. (Who says you can't age non-vintage Champagne?)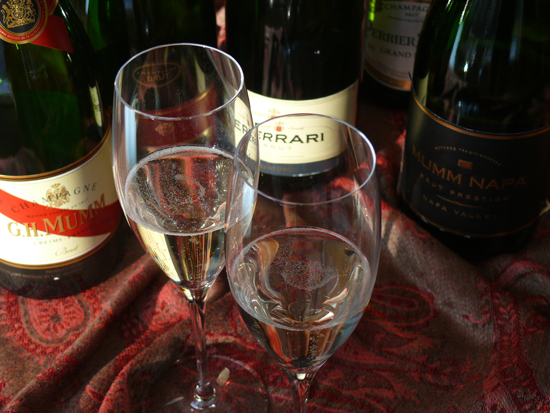 G. H. Mumm
Champagne Cordon Rouge Brut NV
45% pinot noir, 30% chardonnay, 25% pinot meunier
12% abv | $45 (media sample)
This blend has a remarkably large percentage of reserve wine—25% to 30%—which contributes great depth and complexity. Pale gleaming gold, it has skeins of pearly bubbles, and its nutty aromas are grounded by a pleasing earthiness with delicious flowery notes wafting above. On the palate it has flavors of nutmeats and toasty almond brioche with a smooth, even texture. A very elegant and rounded wine, it's delicious with aged Gruyère.
Perrier-Jouët
Champagne Grand Brut NV
80% pinot noir, 20% chardonnay
12% abv | $50 (media sample)
Ethereally pale with fine-textured, quiet bubbles that spirit an intoxicating perfume of jasmine, yellow apple, pear, pistachio, biscuit, and flint. The wine's smooth, creamy mousse flares open to reveal green apple, lime peel, crème frâiche, and pear nectar. This wine is intricate and ever-changing, shifting between toast and fruit, nut and flowers, bread and citrus—at once taut and delicately yielding. Give it some air and time, and let it carry you into the New Year, ringing.

For more sparkling notes, see another recent article, "Divining Ferrari's Substance and Style: A Comparative Tasting of Twenty-four Traditional Method Sparkling Wines."