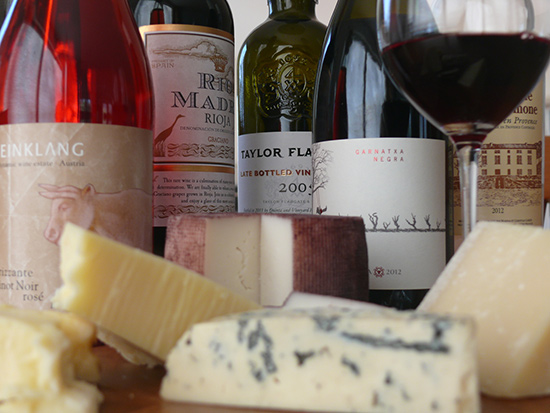 Wine is good with cheese—except when it's not.
I don't mean the gustatory disappointment of the ubiquitous "wine and cheese reception," that gallery opening, poetry reading, or English department soirée where you nibble cubes of rubbery Swiss and sip supermarket Pinot Grigio from a plastic cup.
I mean those other times, when you serve wine with cheese to light off a celebratory meal or draw it to a glittering close. You set out a platter of fine cheeses and pull the cork on a good bottle, then wonder why some flavors seem off—sour or weird or just plain flat. Doesn't wine go well with cheese?
Well, yes—and no, but only because there's not just one kind of wine and one kind of cheese. Wines range in acidity, complexity, weight, and savoriness. Some have floral or citrus notes or seem almost briny. Some are heavily textured, fruity, or tawny. Yet others feel chiseled and dark, even severe. Age adds another layer of complexity, too.
The same goes for cheese. They vary in moisture content, fat content, mouthfeel, flavor intensity. Fresh young goat cheese is quite acidic, with grassy-herbal notes and a chalky texture. Contrast that with aged Gouda, a cow's milk cheese that acquires nutty, savory notes and a gritty texture from its long repose in the cave. The former cheese is delicate and tangy, while the latter is an umami-bomb. We call them both "cheese," but they're as different as pork loin and bacon.
When each element—the cheese and the wine—has such a distinctive personality, making a good match gets tricky. Some wines go well with cow's milk cheese, but not with goat. Some pair with aged cheeses but swamp young ones. But when you do find a match that's felicitous, and the wine and cheese bloom together on your tongue: bliss.
The Experts' Take on Pairing Wine and Cheese
One of my favorite wine and food pairing guides, "What to Drink With What You Eat," dedicates eleven pages to cheese and wine matchmaking. Authors Andrew Dornenburg and Karen Page interviewed sommeliers, cheesemongers, and maîtres fromagers, plucking their tastiest tidbits of advice. The entry runs the cheese gamut from Alt Urgell to Zamarano, and best pairings are highlighted in bold: Rioja with Manchego, Champagne with Brie, Port with Stilton, Vin Jaune with Vacherin, and on and on.
Cheese purveyors also offer tastings, classes, and other free guides to help customers learn to make best matches. Murray's Cheese in New York City has a vibrant educational program. "We put a lot of effort into selecting and aging cheeses," says Sascha Anderson, director of e-commerce, "and we want to be sure they continue to taste great—or taste even better—with what people are drinking."
Murray's website lists pairing recommendations for every cheese. Buying a Brie Fermier? Try Pinot Noir, Chardonnay, farmhouse ales, or hard cider. A separate online pairing guide takes the opposite tack, starting with the wine. Pouring a Chenin Blanc from the Loire? This crisp white with appley fruit notes and a hint of herbs loves tangy goat cheese. And if you can find a goat cheese from the Loire, tant mieux; Murray's guide echoes the oft-heard refrain, "What grows together goes together."
That pairing principle—terroir—is helpful but can also be a little misleading, cautions Anderson. After all, "Not all French wine goes with all French cheese!" she says. But you can learn a lot simply by looking at gastronomic customs in a region, because the tastiest pairings persist. Vin Jaune, a wine from Jura, has been served with the region's Comté cheese for centuries, so "you can be pretty sure they'll go together," says Anderson.
Artisanal Premium Cheese Company, also of New York City, has developed a clever kit called the CheeseClock. Cheese styles from mild to medium, bold, and strong are arrayed around a circular "clock," along with appropriate beverage pairings. Artisanal packages sixteen of its most popular cheeses in boxes color-coordinated with the clock's four quadrants. That way, a customer can see just by glancing at the package that a Brillat-Savarin is "mild," while a two-year cheddar is "bold," and use the clock to find a wine to pair.
And vice versa. Artisanal's coordinating wine bottle tags let shopkeepers flag appropriate wines. That way even if no staff person's available, a customer can be sure she's making a good match. Not surprisingly, the CheeseClock has led to an uptick in sales of both wine and cheese at the shops that are using it. Dan Dowe, Artisanal's CEO, reports, "Customers say, 'You've given me a structure on which I can now build.'"
Age Is Key
But what is that structure, exactly? How can we learn to make a good match when no expert or reference guide is handy? The key lies in understanding what contributes to the flavor profile of both wine and cheese.
First let's tackle cheese. Fresh and young cheeses have a high moisture content, because the water in the milk hasn't yet had a chance to evaporate. High water content means delicate flavors. As a cheese ages, it slowly loses water, leaving behind fat and protein. (People think of Brie as a fatty cheese, but it actually has less fat, ounce per ounce, than aged cheddar, because Brie's gooey goodness is largely water.) The loss of water concentrates the cheese's flavor, and the aging process, called affinage, imparts new flavors, too. Hard-aged cheeses have the least water and the strongest flavors.
As we've noted, aging affects wines' flavors, too. Young wines—white and rosé released within a year of their harvest, and red wines with little time in the cellar—tend to be spirited, fruit-driven, fresh, and juicy. But wines that have aged in cask and bottle before release have had a chance to develop secondary flavors beyond those of fruit and fermentation, notes of oak, toast, earth, umami, oxidation, and more. These wines tend to be more complex and savory.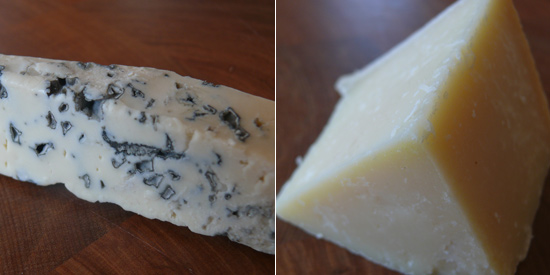 Putting It All Together
Since fresh cheeses retain their youthful, milky qualities, they need wines that are youthful and spirited, too, to make their flavors shine. Best choices for young cheeses are crisp whites and rosés with apple, stone fruit, tropical, citrus, or melon flavors; light reds like the gamay-based Beaujolais; and sparkling wines, even those with some sweetness.
Meanwhile, moderately aged cheeses, like Edam, Havarti, or Emmental, have developed some complexity, but remain smooth and mild tasting. That makes them partner best with wines that, like them, have some complexity but retain refreshing acidity: oak-aged whites, fruit-driven but aged reds, and oxidative styles like Sherry.
Aged hard cheeses need wines with oomph to balance their dense, salty, and very savory flavors. They work best with earthier wines with big, ample structure, meaning those with some tannin. That's because tannins bind protein and fat, essentially scrubbing the palate clean after every bite. A tannic red will feel too astringent and drying after a bite of fresh cheese, because it ties up whatever butterfat is available, leaving you with a chalky, unpleasant sensation. But after a bite of rich cheese, it'll feel beautifully refreshing.
We've seen that essentially, successful wine and cheese pairing boils down to this maxim:
Pair by flavor intensity—which often correlates with age.
In other words, pair younger cheeses with bright, fresh, young wines; older cheeses with bigger, aged wines; and cheeses in between with a wide range of wines, from youthful to vibrant, but stopping shy of the biggest, boldest reds.
Pointers for Pairing Wine and Cheese
Below I've broken cheese-dom into three main categories, from fresh through hard-aged. Example cheeses are in the left column, and example wines that'll pair well with any of those cheeses are in the right column:
Pair young fresh and soft cheeses—

—with crisp, floral, herbaceous, and sparkling wines

Fresh cow
Ricotta, Paneer, Boursin, cream cheese, queso blanco

Fresh goat
Chèvre, Caprino

Stretched curd
Mozzarella, Burrata

Brined
Feta, Halloumi

Bloomy-rind cow
Brie, Camembert, triple-crème (Brillat-Savarin, St. André), Casatica de Bufala

Bloomy-rind goat
Crottin, Bûcheron, Miticana de Cabra, Humboldt Fog

Crisp whites
Chablis, Chenin Blanc, Pinot Gris, Pinot Grigio, unoaked Chardonnay, Albariño, Assyrtiko

Floral whites
Gewürztraminer, Viognier, Muscat/Moscato, Malvasia

Herbaceous whites
especially with goat
Sauvignon Blanc (Sancerre, White Bordeaux, Fumé Blanc), Grüner Veltliner

Riesling, dry through sweet
Trocken; Kabinett, Spätlese, Auslese

Sparkling wines, white and rosé
Champagne, Cava, Franciacorta, Trentodoc, Prosecco, Moscato d'Asti, Brachetto d'Acqui

Dry rosé
Tavel, Bandol, Côtes du Rhône

Light reds
Gamay (Beaujolais, Bourgogne), Lambrusco, California Grenache

Aperitif and sweet wines
Fino Sherry, White Port

Pair semi-aged and medium-hard cheeses—

—with medium-bodied white, fruity red, and vintage sparkling wines

Mild Cow
Havarti, Monterey Jack, Bel Paese, Provolone, Muenster, Young Gouda

Mild Goat
Capra Sarda, Capra Valtellina

Mild Sheep
Manchego (fresco and semicurado styles), Vermont Shepherd, Pyrenees Brebis

Swiss or Swiss style
Emmental, Gruyère, Jarlsberg, Baby Swiss, American Swiss

Washed Rind
Époisses, Drunken Goat, Tomme, Taleggio, Morbier

Medium-bodied whites
Chardonnay (lightly oaked), white Burgundy, white Bordeaux, Pinot Blanc, Viognier, Rioja Blanca, white Rhône blends

Riesling, especially off-dry through sweet
Spätlese, Auslese, Beerenauslese

Sparkling wines, especially vintage
Champagne, Cava, Trentodoc

Light or fruity reds
Dolcetto, Barbera, Beaujolais, Grenache, red Burgundy, Pinot Noir, Zinfandel, Lambrusco

Hard cider (dry to off-dry)

Aperitif and sweet wines
Vintage Port, Late Bottle Vintage Port, White Port, Young Tawny Port, Amontillado Sherry, Calvados

Pair hard aged and blue cheeses—

—with full-bodied, tannic, oxidative, aromatic, and sweet wines

Aged Cow
Cheddar, Cheshire, Caerphilly, Colby, Comté, Fontina, aged Gruyère, aged Gouda

Aged sheep
Pecorino, Manchego (curado and viejo styles)

Grana
Asiago, Parmigiano Reggiano, Grana Trentino, Grana Padano

Blue
Gorgonzola, Stilton, Roquefort, Cambozola, Bleu d'Auvergne, Fourme d'Ambert

Big, oxidative, or highly aromatic whites
Gewürztraminer, Muscat, Viognier, aged white Burgundy, aged white Bordeaux, Roussanne, Vin Jaune, orange wines

Riesling, especially off-dry through sweet
Spätlese, Auslese, Beerenauslese

Sparkling wines, especially vintage
Champagne, Cava, Trentodoc

Full-bodied reds
Zinfandel, Merlot, Barbera, Burgundy, Oregon Pinot Noir, Petite Sirah, red blends from California

Structured reds
especially with hard aged cheeses
Barolo, Barbaresco, Brunello, Barbera, Amarone, Chianti, Sangiovese, Nero d'Avola, red Burgundy, red Bordeaux, Cabernet Sauvignon, Syrah, Cabernet Franc, Monastrell, Ribera del Duero, Rioja (Spanish wines especially with Manchego)

Aperitif and sweet wines
especially with blue cheeses
Oloroso or Amontillado Sherry, Madeira, Sauternes, Tawny Port, Vintage Port, Late Bottle Vintage Port, Banyuls, Recioto, Tokaji
If you must pick a single wine to match an array of cheeses, err on the side of acidity. Sparkling wines can readily fit the bill. "They have that nice acid backbone, and the bubbles will physically lift cheese off your palate," says Sascha Anderson, of Murray's. But seek out sparklers with moderate intensity. Champagne and other traditional method sparkling wines work well, especially aged versions whose savory notes that are also supremely food- (and cheese-) friendly. Off-dry wines can also pair quite broadly because they serve as a foil for salt: Riesling or Gewürztraminer, Lambrusco, and lighter dessert wines.
So next time you're leaning over the cheese case and pondering what to pour, remember to pair by intensity—and by age. Then take a bite, and a sip: bliss.
For more cheese pairing tips, see Pairing Sparkling Wine With Cheese.
Many thanks to Serious Eats, Vindulge, Comté USA, Play the Wine Game, and others for recommending this article to their readers.