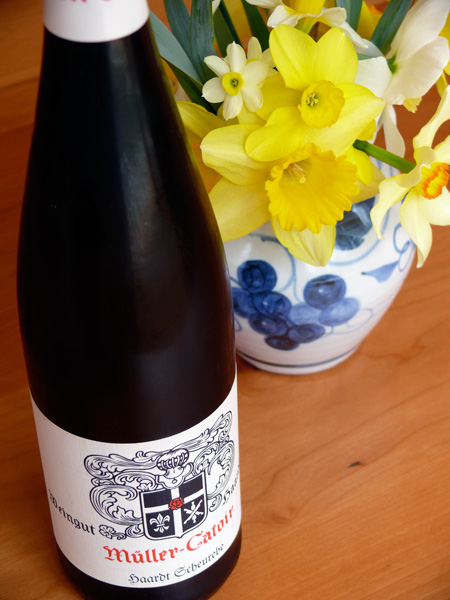 Müller-Catoir
Haardt Scheurebe
2009
12.0% ABV | Price: about $29

Very pale clear gold, this Scheurebe at first offers a whiff of petrol and fresh pear. Once it warms it starts yielding tropical fruits—pineapple, passion fruit, a little oily citrus, and a hint of spring flowers, too, unless that's just what's in the air. On the palate the wine has great acidity and a salty, slatey backbone against which luscious guava and Asian pear and tropical fruit stand forward. There is layer upon layer of flavor, each yielding to the next in a delicate and felicitious interplay. The finish lingers long.
I visited Müller-Catoir on a recent trip to the Mosel, Pfalz, and Rheingau regions of Germany. During my group's scheduled tasting, I (somewhat ill-advisedly) engaged the winemaker in a debate about whether a keller could be considered part of a wine's terroir. The molds, yeasts, and flora of a cellar might influence the wine en route, I suggested, images of black cellar mold fresh in mind from our recent cellar tours. They help the wine be what it will become. (I was embolded a little when one of my colleagues, a winemaker, agreed with me.)
No, he said, terroir is the vineyard, tout court. Its influence ceases the moment the grape is harvested. After that, it's up to the winemaker to do as little as possible to the wine, to coax it forth and stay out of the way.
If he's right, then the slate soils of the Pfalz evidently do know what to do.