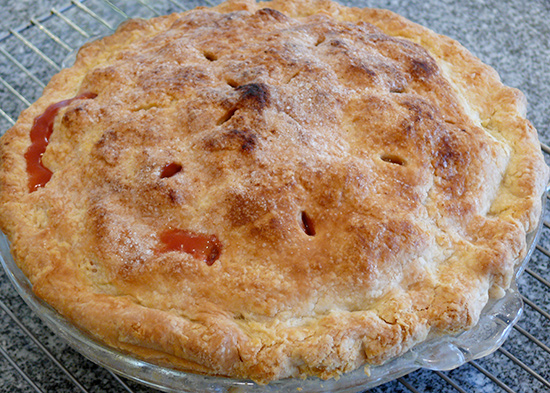 This year we hosted the family for Thanksgiving dinner. Although there were only six of us—too few, really, for a big turkey—I decided to take the traditional approach anyway and bought a fourteen pound bird. This was the first Thanksgiving in our home after two years of forced exile, and I wanted the meal to be archetypal: turkey, gravy, stuffing, cranberry sauce, squash, potatoes, green beans, pie. I wanted us to enact the ritual of giving thanks, with all its sacraments.
Steve did the wine, I did the food. I kept it simple, mostly. I rubbed herb butter under the turkey's skin, filling the cavity with fresh thyme, rosemary, sage, and onion, and roasting it breast-down for the first thirty minutes. I made a Tuscan sausage and bread stuffing, a rich meal-in-itself with Parmesan, cream, and a handful of toasted pecans. The mashed potatoes, squash, and beans were unadorned except by butter, salt, cream, and a few herbs. The cranberry sauce was just cranberries and sugar—no orange zest, no horseradish. The meal was traditional and simple—food as itself, in all its glory.
With the cheeses and nuts I laid out as appetizers, Steve served a sparkling Pinot Noir rosé Cava from Codorníu. With the meal, he pulled the cork on a Windy Oaks Pinot Noir "Diane's Block" and an Elk Cove Pinot Gris Willamette Valley. The Windy Oaks was, as always, spectacular—sensual and velvety—and the Pinot Gris proved luscious and full-bodied, holding its own even with the rich stuffing.
The turkey itself was divine, juicy and flavorful. It had been raised a happy bird at Stonewood Farm in Orwell, Vermont, which accounted for much of its wonderfulness. But the herb butter and breast-down start helped keep it moist, so even the white meat was perfect. The stuffing (well, technically, "dressing," since I cook it separately) was extravagantly meaty and rich, offering a deep earthy pleasure. Thank heavens for the green beans and squash—how else could we have justified such opulence?
And at the end, there was pie. I like a fruit pie for the Thanksgiving table. The crisp brightness of the fruit is a welcome counterpoint after a starchy, sleepy meal. I had decided earlier this week on apple, though dithered briefly about making an open galette instead of pie, since my galette recipe is so reliable. But in the end, tradition won out, as I deemed pie's (ostensible) American provenance more suitable for the occasion.
Pie is easy, right? "Easy as pie?" Pie may be simple, but it's not easy. It's the pastry that carries it, and pastry is hard. The secret is to use a light hand: "Don't let the ingredients get too familiar with one another" is an admonition I repeat to myself every time I make the dough. Sometimes I rely on a crutch, the old French trick of adding a little acid—lemon juice or vinegar—to keep the gluten from getting too worked up. But this only takes you so far; you still have to pay attention. I've always used butter, partly because it adds good flavor, and partly because I'd never quite wrapped my head around cooking with lard or shortening. But though my pie pastry has always been acceptable, and sometimes quite good, it has never been phenomenal, and I'm continually searching for the secret to perfect pie.
I may have found it. This week, thumbing through my old Fine Cooking magazines for turkey tips, I stumbled on a recipe that promised a flawless apple pie. It called for a pastry made with half butter, half shortening, and gave detailed instructions for attaining flaky perfection. I swallowed my cook's pride (a recipe for apple pie?! Shortening?!) and decided to try it.
It was, truly, phenomenal. I did modify the filling a bit, adding cranberries and cutting back on the sugar, but the crust is a keeper. My recipe follows below. It was a memorable end to a memorable, celebratory meal. Give thanks.
Perfect Apple Pie
Adapted from Fine Cooking #81, Oct/Nov 2006, pp. 64–67
Original recipe by Carole Walter
Pastry
2-1/3 cups all-purpose flour
1 Tbs sugar
3/4 tsp salt
1/2 tsp baking powder
1/2 cup chilled butter, cubed
1/2 cup vegetable shortening
6-8 Tbs ice water
Put the dry ingredients in the bowl of a food processor fitted with the steel blade and chill for 20 minutes.
Remove dry ingredients from the fridge and pulse briefly to combine. Add half the butter and shortening and pulse 5 times, then process for 5 seconds. Add the remaining butter and shortening, pulse 5 times, and process for 5 seconds. Turn the mixture into a large bowl. The mixture will still have some pea-sized chunks.
Drizzle 1 Tbs ice water on the mixture and toss together lightly with a fork. Repeat 4 or 5 times, drizzling and tossing the mixture together. Stop when you can pick up a handful and squeeze it together into a clump that does not separate. In the winter you'll need to use more water; in the summer, less.
Separate the mixture into two halves and press each together into a ball. Dust each ball with flour, flatten each into a disk, wrap in plastic, and refrigerate 30 minutes while you prepare the filling.
Filling
8–10 small to medium Cortland apples—about 2-1/2 to 2-3/4 pounds
1 cup cranberries
1-2 Tbs lemon juice
1/3 cup light brown sugar
1/4 cup plus 1 tsp white sugar
3 Tbs cornstarch
1/2 tsp cinnamon
1/2 tsp freshly ground nutmeg
1/4 tsp salt
1 Tbs butter, cut into cubes
1 egg white, beaten with 1 Tbs water
Preheat oven to 400°F.
Peel, core, and cut the apples into 3/4 inch chunks. Place them in a bowl and toss with lemon juice and cranberries.
Combine the sugar, cornstarch, spices, and salt in a small bowl and set aside.
Grease a 9-inch pie pan. Roll one pie dough disc on a floured surface and lay it into pie pan, leaving 1/2 inch overhang. Brush with the egg white mixture (you won't use it all).
Toss the apples with the dry ingredients and press this filling into the pie shell. Dot the filling with the 1 Tbs butter cubes.
Roll out the second half of the dough and place atop the filling. Trim the edges, leaving an extra 1/2 inch and turning under the bottom crust. Press the edges to flute. Brush the surface with a little water and sprinkle with white sugar. Score the top in six or eight places.
Trim the crust's edges with aluminum foil and bake until the top is brown and the juices are bubbling, about an hour. Remove the foil and bake another 5 or 10 minutes until browned.