In the 18th and 19th centuries, volcanic eruptions carpeted Lanzarote, the easternmost island of the Canary chain, in one to five meters of black ash.
Astonishingly, viticulture persisted, and the island currently has about 2,000 HA in vine. But these are not ordinary vineyards. Grapes must be planted in shallow pits to allow the roots to reach through the lapilli layer into clay soils, and the vines must also be protected from the island's ceaseless, drying winds.
The result is one of the most spectacularly photogenic wine growing regions on earth. Where the ash is more shallow, vineyards can be planted in low trenches called zanjas, each row lined with a stone wall to guard against desiccation. Elsewhere the vineyards are moon-like, pocked with circular craters called hoyos that each harbor a low sprawling vine sheltered by a fingernail of stone.
The obdurate conditions and wide vine spacing conspire to keep grape yields low on Lanzarote, only around 15 hl/HA (compare this with, say, the 55 hl/HA in Bordeaux). Mechanization is impossible, so cultivation and harvest are necessarily manual.
The winery of Bodega los Bermejos, the producer of this rosado, is sited in the middle of the island. Below is a Google Maps satellite view showing the winery facility at bottom center. North of the road are the crater-like hoyos plantings, to the south the linear zanjas.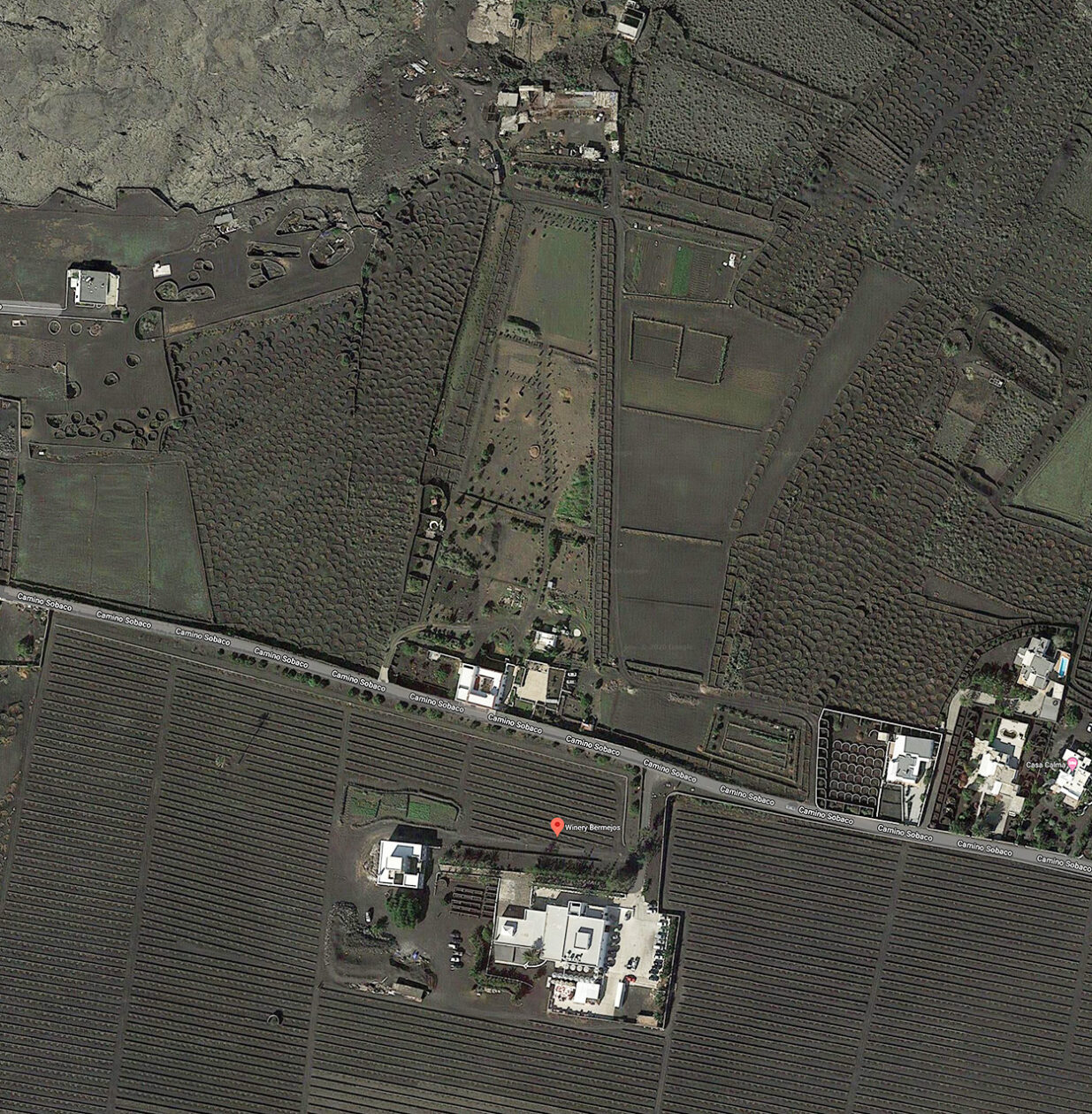 A Google satellite view of the land around the Bermejos winery shows a mix of plantings
Bermejos's rosado is a varietal wine, a direct pressing of Listán Negro, a blue-black grape native to the Canary Islands (and often confused with Listán Prieto, which was brought to the Americas centuries ago for use in sacramental wine). Owner-winemaker Ignacio Valdera farms organically or sustainably, depending on the vintage, and sometimes uses purchased fruit.
The rosado is a deep orangey-pink and exudes a fragrance of macerated strawberries and dried apricots. An edge of reduction reads as a mineral note, although with air the floral and fruity aromas bloom broadly. The wine has firm structure, its nervy texture carrying flavors of pink berries accented by stone fruit and sultana.
It is an ample, structured wine that continues to evolve over the course of a meal. Don't serve it too cold. Treat it more like a red wine than a pink.
2018 Bodega Los Bermejos Listán Negro Rosado Lanzarote DO
13.5% abv | About $22; imported by David Bowler