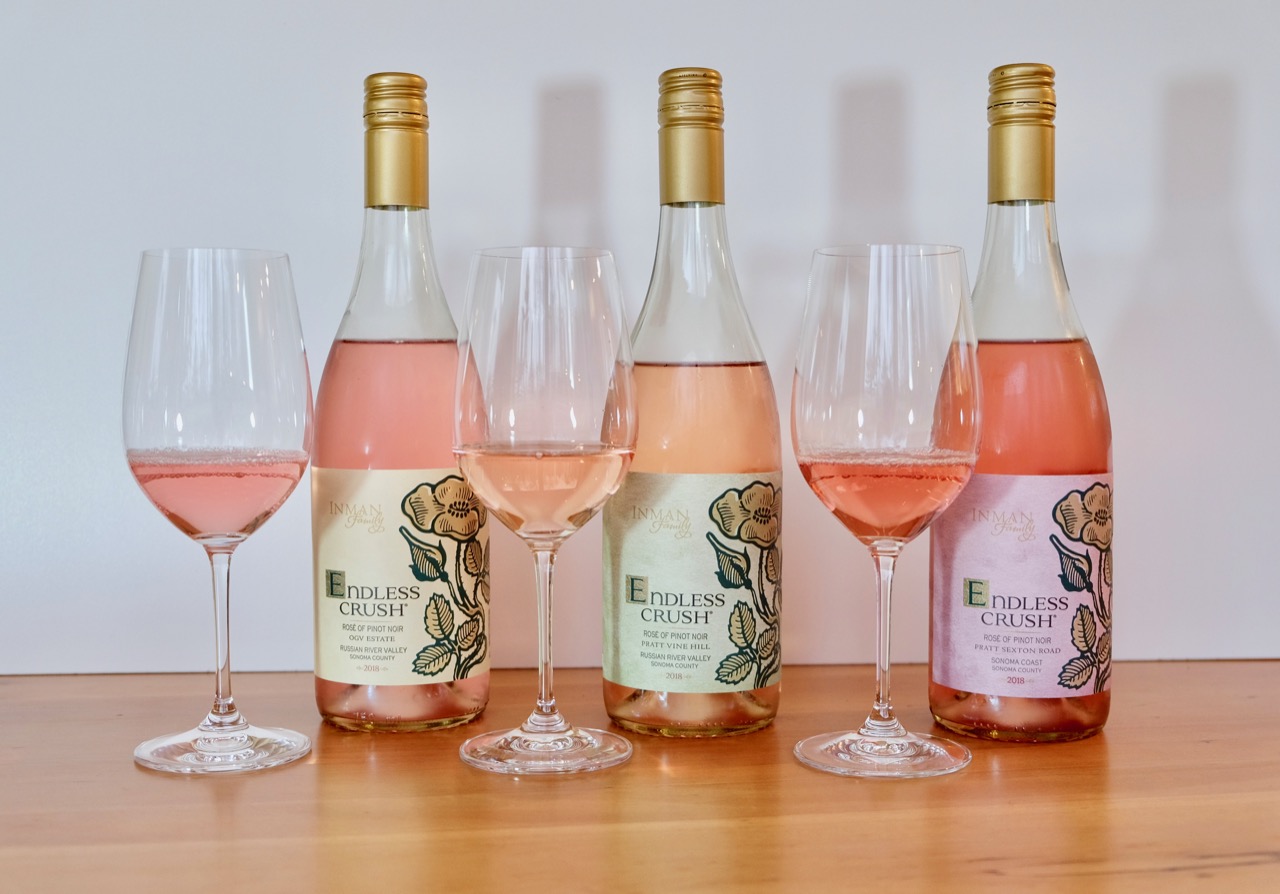 Kathleen Inman's Endless Crush rosé has long been made with Pinot noir fruit from her organically farmed OGV home vineyard in the Russian River Valley. In 2018 she added two new rosés, sourcing Pinot from neighboring Pratt Vine Hill and Pratt Sexton Road.

The winemaking was nearly identical across the lineup. The grapes were hand harvested at night, de-stemmed, pressed, and settled, then inoculated with a Provençal yeast strain. The wine aged in stainless steel on lees before filtration and bottling under screw cap.

The results, though, are distinctly different: the Pratt Vine Hill is the most linear, the Pratt Sexton Road the most weighty, while the estate rosé strikes a keen balance between these two. The differences suggest a winemaker who's happy to let the fruit show what it can do. All praise.
2018 Inman Family Endless Crush Rosé OGV Estate Russian River Valley
Pale candy pink color with an almost bluish tinge. The aromas suggest tart strawberry and rhubarb fruit, and the wine offers glassine acidity. But the finish is coating, swelling with tropical fruits like passion fruit and mango. A good sipping wine with appetizers, light fish and shellfish preparations, chicken salad, white beans, tuna, pasta primavera.
12% abv | $38 (sample); 1,200 cases made
2018 Inman Family Endless Crush Rosé Pratt Vine Hill Russian River Valley
Light shell pink color with a watery rim, very like the classic Provençal rosé. The fragrance is sharp, almost saline, with a blade of tart rhubarb and mint. It's likewise lean on the palate, with angular acidity. This wine shines with tangy foods: goat cheese, tomato salad, ceviche.
13.9% abv | $38 (sample); 270 cases made
2018 Inman Family Endless Crush Rosé Pratt Sexton Road Russian River Valley
Saturated candy pink color with a sharp perfume but substantial body, with dark berries and a clean tropical finish. A wine for more substantial foods: try roasted chicken dressed with fresh fruits, rosy pork tenderloin, rare lamb, salmon. Vegetarians will want faro salad, curries, and beans with dried fruits and nuts.
13.5% abv | $38 (sample); 225 cases made