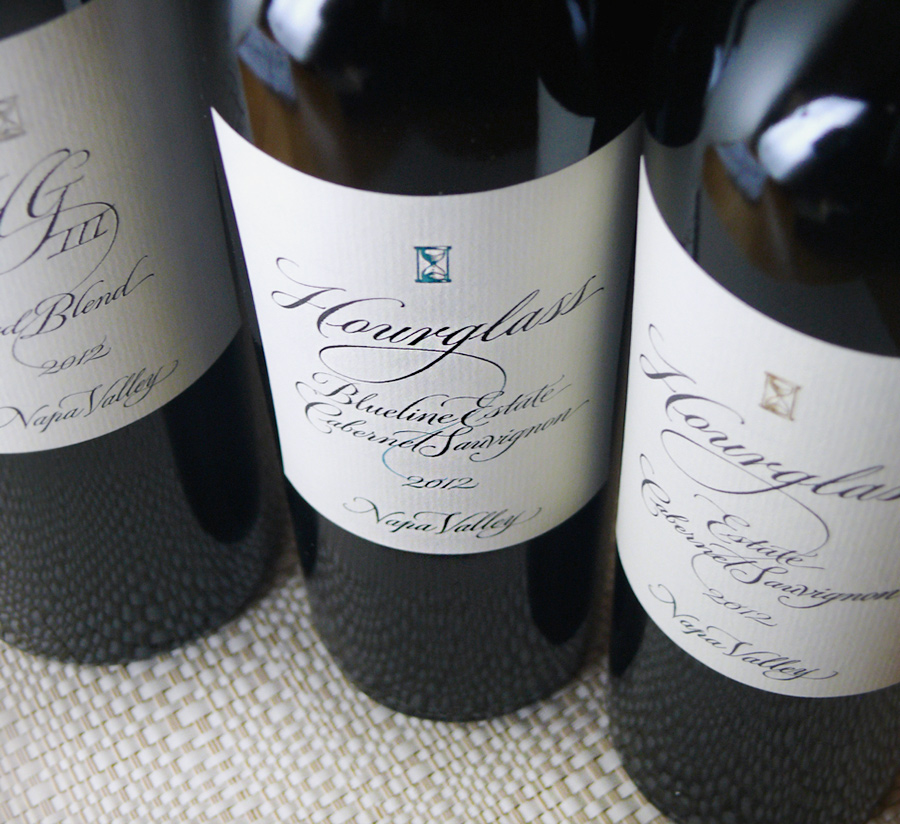 "I'm an aroma guy," said Jeff.
"I'm a texture guy," said Tony.
Jeff Smith is the proprietor of Hourglass Estate (his father, Ned Smith, founded the winery in 1975) and Tony Biagi is, since 2012, the winemaker. But both men have deep winemaking experience, and for all of their kibitzing during a recent tasting of the 2012 Hourglass Bordeaux blends and varietals, it's clear there's wisdom in the collaboration.
Their reds are built for the long haul. Biagi focuses on developing structure early, conducting regular lees stirring while the wines are in barrel. "It makes them fat, makes them put on weight," said Biagi. "The yeast breaks down and the protein gives you more denseness and richness in the mid-palate."
But the approach also tends to suppress the wine's delicate floral and fruit aromatics, at least in the short term. "That's because the process also scavenges oxygen," said Biagi. "The wine is almost dumb for the first year of its life because it doesn't have the oxygen to build aromatic compounds."
"It took me a little getting used to," confessed Smith. "I'm used to this blast of primary fruit aromas straight out of the barrel."
Or out of the bottle. Many wine drinkers seek reds with primary fruity, floral qualities, wines that are easy to like when they're young. But while Biagi's cellar protocol may alarm his boss, it serves to build a robust frame that will carry the wine forward a decade or longer. "It gives the wine a ton of ageability," Biagi said.
Not that the Hourglass wines lack fruit. The Sauvignon Blanc (granted—likely not made for aging) has delicious shimmering tropical fruits and melon. The reds, including a Merlot, a red blend called HG III, and two Cabernet Sauvignons, offer blue and black berries, currant, cranberry. These wines also have lilting mint and woodsy cypress notes. They're all multi-dimensional wines, young but in balance.
But the two Estate Cabernets, which are clearly Hourglass's cynosure, have a special resonance. The lees stirring builds texture and savoriness, adding an umami note. But there's something else happening in these wines, too, that makes them feel dark, almost brooding, deeply complex—and a little bit bitter.
Bitter? Stay with me.
Bitter gets a bum rap. We use bitter to describe defeat, envy, a scourge, the end. We don't like bitter foods. Or so we think. Your first taste of the day may have been bitter, snapping you to attention in your mug of coffee or tea, or in the marmalade spread across your toast. Your lunchtime salad had bitter leafy greens, bitter olives, a bitter mustard vinaigrette. Walnuts are bitter, as are brassicas like kale and broccoli rabe. Chocolate is bitter. Beer is bitter. You might love bitter without realizing it's lovable.
Sometimes, tannins in red wines can feel so sharp and astringent they read as bitter. But I'm not talking about textural bitterness, here. I'm talking about an earthy, flavorful bitterness, a lovable bitterness that adds dimension. It's the tiniest but perceptible bitterness in Barolo and Aglianico, Cabernet Franc. It balances fruit and flowers and acid and mint and all of the other characteristics in the profile, adding gravitas and—dare I say it?—sobriety.
I love bitter, and I love that these wines fearlessly leave my tongue, at last, with a bitter snap. It might take a little getting used to.
2013 Hourglass Sauvignon Blanc Estate Napa Valley
14.2% abv | $40 (sample)
A spritely, poised Sauvignon Blanc produced from a single vineyard block planted to two clones, SB #1 and Musqué. These lots were picked and vinified separately, then blended back to produce a wine that balances elegance and opulence. Aromas of gooseberries, lilacs, jasmine, and green melon lead to a creamy-textured palate plush with kiwi, guava, and yellow peach. The fruit is freshened by cut crystal acidity and an alluring polished mineral finish.
2012 Hourglass Red Blend HG III Napa Valley
14.8% abv | $50 (sample)
This blend of Merlot, Cabernet Sauvignon, and Malbec is composed from declassified estate lots plus non-estate fruit. Bright ruby with a fuchsia rim, it has aromas of macerated fruits, mocha, and minty herbs. With ample air these evolve into a deep, woodsy menthol note that leads to a palate animated by blue and red berries, currant, spicy cranberry. Coffee, mocha, soy, and black mushrooms are the reward of a few hours in the decanter.
2012 Hourglass Merlot Blueline Estate Napa Valley
14.8% abv | $75 (sample)
Cassis, pomegranate, and a fresh spearmint herbal aspect complement good acidity and supple (but young) tannic structure. There are finishing notes of red currant, anise seed, and black plums. This wine is not savory but not fruit-driven, either, and while I'd like to taste this vintage again in five years, I'm enjoying its freshness, youth, and vitality now.
2012 Hourglass Cabernet Sauvignon Blueline Estate Napa Valley
14.8% abv | $125 (sample; I tasted a 375 ml bottle)
Inky ruby purple color, dense and deeply extracted. Aromas of mocha, black coffee, deep blue fruits, woodsy juniper and juniper berry. Surprisingly supple with velvety tannins, even though it's youthful, still a child, really. Blueberries and black cherries fulfill the role of fruit, but the predominant impression is textural rather than fruity. Velvety tannins are woven with lovely deep juniper forest notes and a trace of graphite. The wine reads like inky silk, but at the finish there is a bitterness, a coffee bitterness, which feels seamless with the tannic texture and is, as with coffee, welcome and refreshing.
2012 Hourglass Cabernet Sauvignon Estate Napa Valley
14.8% abv | $165 (sample; I tasted a 375 ml bottle)
If the Blueline Estate is inky silk, this one is charcoal silk. Its deep ruby body offers aromas of blackish-red fruits, black coffee, mocha, and a hint of clovey spice. If there were such a fruit as a black cranberry, it would smell like this. There is graphite, too, and almost-charcoal, plus oiled leather. The wine's texture is surprisingly smooth, and the finish is a wake-up, like biting bitter chocolate. Bitterness is good.
Follow my wine reviews on Vivino and Delectable.