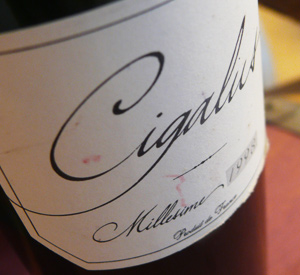 Editor's note: As 2014 drew to a close, I reflected on my favorite wines of the year. First read my introduction (which also contains the list of wines), then follow along as I publish notes on ten wines that taught me something new. Here's Number Nine:
1998 Domaine de Cigalus Rouge Pays d'Oc
Unknown abv | Current vintage about $40 (1998 sample tasted at the winery)
Domaine de Cigalus is located just outside of Narbonne, in France's Languedoc-Roussillon. Although it sits squarely within the bounds of Corbières, the wines are classified as Pays d'Oc, which has looser regulations governing wine production.
I visited the domaine last spring, but despite the above long pedigree of place names, I could not possibly provide further specifics of its location. Even our driver and guide had difficulty locating the estate's entrance, having been given directions essentially amounting to "there will be a bridge" and "turn right at the tree."
The 75-hectare vineyard surrounding the cellar is planted to white grapes Chardonnay, Viognier, and Sauvignon Blanc and red grapes Merlot, Cabernet Franc, Syrah, Grenache, Carignan, and Caladoc. Farming has been biodynamic since 2002. The estate bottles both Blanc and Rouge, and these are always blends.
We were met at the chai by Cédric Lecareaux, estate director for Gérard Bertrand, which owns the property, and vineyard manager Gilles de Baudus. The men patiently explained the procedural mysteries of biodynamic wine production, articulating the need for a shift in both process and mindset when converting a winery.
Convincing the workers of the advantages of the new methods was a vital effort. "It takes time to change people's minds," said Gilles. "It's not the work. It's the mentality. You have to make the workers confident in the methods—and the results."
We tasted the results, in a partial vertical beginning with 2012 and reaching back to 2001 for the Blanc and 1998 for the Rouge. The wines were truly variable, each vintage distinct and individual. Some of the whites were salty, some of were oily, some had beautiful lemon-peel and guava freshness, some were floral. Some of the reds were volatile and candied, some were wildly herbaceous, and some were elegant, almost crystalline in their purity.
The 1998 Rouge, though, captivated me. A deep mahogany color, it had aromas of tobacco, earth, plum, and leather, and a body with polished, supple tannins. It tasted as if tobacco had suddenly borne fruit. It shone with a brilliant acid-washed finish.
"This is a wine that knows itself," I wrote in my notebook. Perhaps it does, but strangely, the more I tasted it, the less knowable it became. It seemed to want to slip past me, elusive and mercurial.
Wine is not one thing, it's many, always shifting and evolving—over the years, and in the moment.
The Lesson: "It's not the work, it's the mentality."