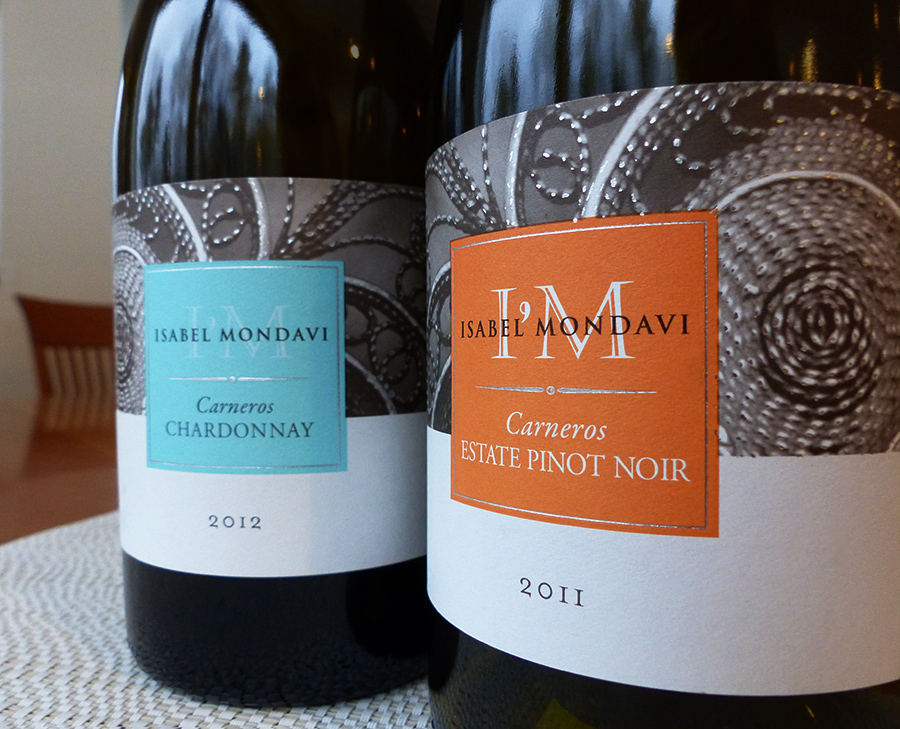 Robert Mondavi and his son Michael launched his eponymous Napa winery 1966, building the business to profitability, taking it public, and finally, in 2004, selling off the brand.
The current Mondavi project, Michael Mondavi Family Estate, is also a family affair, with Michael's wife, Isabel, son Rob junior, and daughter Dina collaborating on operations. They make wine under four labels: M by Michael Mondavi, Animo, Emblem, and Isabel Mondavi. While production is focused on single-vineyard estate Cabernet Sauvignon, there's a little Sauvignon Blanc and Chardonnay, too.
The Isabel line, tasted here, is the family's answer to table wine—food-friendly options that, in Mondavi's own words, "complement rather than compete with the meal."
They succeed. I found them poised and polished yet with enough élan to stand up to meat, spice, and heat. And while the prices don't fall into the "weeknight" category for most, these wines would be gracious dining companions for even the most elegant meals.

2012 Isabel Mondavi Chardonnay Carneros
13.8% abv | $30 (sample)
Elegant and finely-detailed aromatics suggest pear, beeswax, honeyed apple, nut, and sweetgrass. It's lusciously silky on the palate, like moonlit satin, but there's also great focus, articulation, and clarity. The wine was 100% barrel-fermented with simultaneous primary and malolactic fermentations, then spent nine months of sur-lie aging with monthly bâtonnage to develop its texture. It was terrific with seared pork chops that had been rubbed with Chinese Five-Spice powder, ginger, and garlic; the wine felt refreshing and complementary all at once.
2011 Isabel Mondavi Estate Pinot Noir Carneros
14.4% abv | $40 (sample)
Deep garnet red, concentrated and vibrant. Ruby fruits and holiday spices top-note the aromatics, and the palate reads of roasted tomatoes, fig balsamic, coffee, mocha, and spicy berries. But it's taut and vertical, too, with precise acidity and a finish of clove and white pepper that makes it feel sharp and plush all at once. It was excellent with slow-roasted pork ribs rubbed with juniper berries, chipotle, and garlic, then doused in apple cider for the braise.
Follow my wine reviews on Vivino and Delectable.