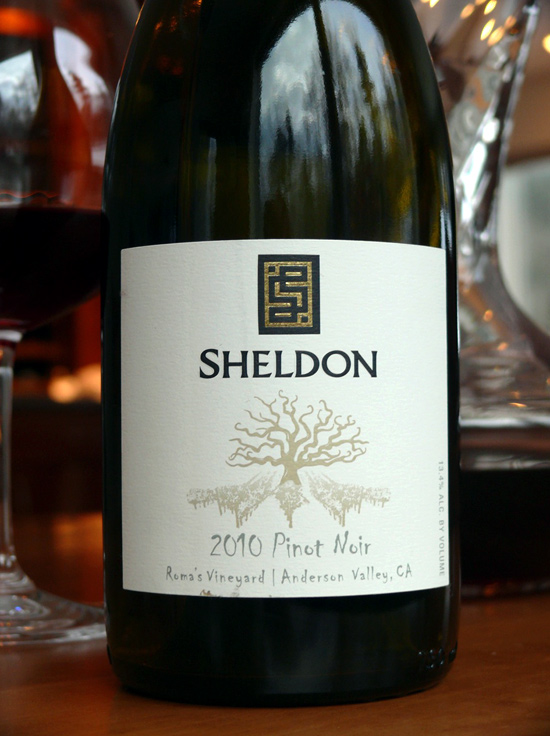 Sheldon Wines
Pinot Noir "Roma's Vineyard" Anderson Valley
2010
13.4% ABV | Price: about $45 (media sample)
Roma's Vineyard rolls along a ridge top overlooking Boonville, California, in the northern corner of the Anderson Valley. At 1,800 feet above sea level, the pinot noir vines wash in cooling breezes and toss in the storms that thunder through every fall.
It's a special place, wild and remote, says Tobe Sheldon, who with husband Dylan Sheldon sources fruit from this planting of Pommard clones. The eight-acre property is off-grid, and while it's fenced against deer, "we don't get to harvest the back couple of acres," she says. "There are black bears that do that for us."
Two thousand and ten was an especially cool vintage, and the fruit hung on the vines three weeks beyond normal harvest dates. Even then, it only hit 22.5° Brix, about 10% below average. Two of the lots were cold soaked, crushed, and fermented in open-top vessels without sulfur addition, while a third was whole-cluster fermented for added structure. The wine was pressed off into 2- and 3-year barrels to retain the wine's focus and aromatics. It was bottled unfined and unfiltered.
The resulting wine is elegant and limpid, a clear pale rose color with burnished highlights. While it's fragrant with red fruits, it's not sweetly fruity—it's more herbaceous, like the smell of a warm, very ripe, sweet tomato. Earthy, spicy scents ride this aromatic current, too. On the tongue it feels fine-boned but vibrant, with a mineral-driven finish.
I poured this wine with a quick sauté of shrimp, spring peas, sundried tomatoes, and lemon-infused oil, which I tossed with linguine. Red wine with shrimp? Yes—at least this one. Its acidity, herbal fruits, freshness, and supple structure harmonized beautifully with the dish.
"Vines, like people, need to be challenged to build character," says Toby Sheldon. Evidently, Roma's vines rose to the challenge in 2010, yielding a wine of great vitality and spirit. And admirably—adroitly—the winemakers let this spirit shine.