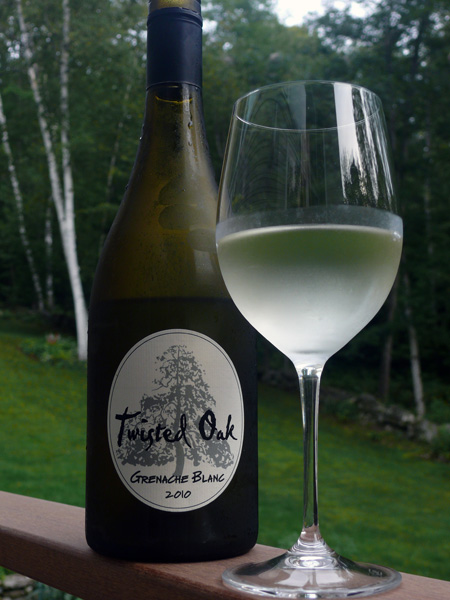 Twisted Oak
Grenache Blanc "Calaveras County"
2010
13.2% ABV | Price: about $24*

This wine is 94% grenache blanc and 6% viognier. Only a few dozen cases were made. It's a very pale, clear yellow, just this side of colorless. In the glass it yields subtle aromas of green apple, stone fruit, tangerine, fresh straw, and sweetgrass. But its predominant characteristic is its zingyness, its bracing acidity. This is a very juicy wine. I would call it "citrusy," but that's more its effect than its flavor.
Sharp and cleansing and sunshiny, and probably perfect with oysters—which are this evening, alas, in short supply.
*I received this wine in an exchange with the winery; I sent Jeff Stai a bottle of Bonny Doon Vineyard's Grenache Blanc; he sent me this bottle of Twisted Oak's.