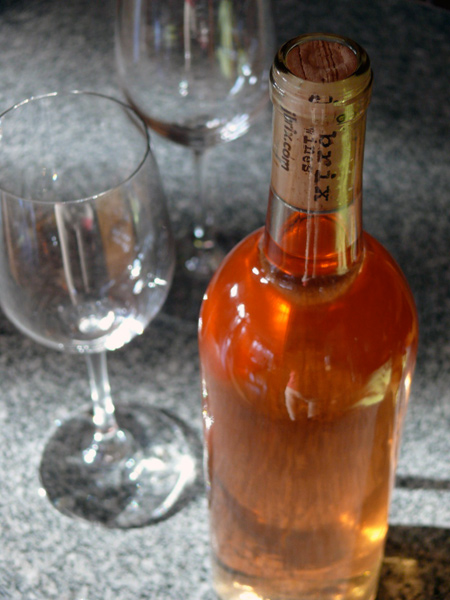 j.brix
Rosé of Grenache "Uncontainable"
2010
13.0% ABV | Price: priceless

Our friends Emily and Jody Towe made this wine in their garage. This is only slightly more exotic than it sounds. Total production: 25 cases.
It's 100% grenache. The fruit comes from the Mesa section of the Santa Barbara Highlands Vineyard, elevation 3,200 feet. The juice spent about five hours on the skins after destemming and before pressing, and then was barrel fermented in neutral French oak with native yeast. Primary fermentation lasted 21 days, and the wine also went through partial malolactic. Two weeks before bottling, in February 2011, it was racked, with sulfur added.
I've been jealously guarding my bottle, which the couple left on my desk during their recent pilgrimage to Bonny Doon Vineyard. I was regrettably not present to greet them that day, although Randall was, and I suspect he was the main point of their exercise anyway. I claimed my prize on my next trip out to California, then swaddled it in bunting (okay, laundry) for its trip back home on the plane. It has reposed on my rack for three weeks while New England decided whether it would ever turn its attentions toward spring. But today there was sun, and so at last I chilled this bottle down and pulled the cork.
It is bright salmon pink—not quite as vocal as the photo shows, but close—with a rosy catch and sungold highlights. Unfiltered and unfined, it throws a sediment of crystals and lees. The nose is faintly appley but is truly all grenache, with clean and very pure grenache fruit aromas. On the palate the wine is bone dry but with a slightly sweet finish, and the net affect is a little floral, like rose petals. But the wine also has great astringency and body, and there's a savoriness to it, although our chers garagistes did not confess to engaging in any bâtonnage.
If it were not so precious, I would call it "quaffable." But I'm savoring it instead, and looking forward to next year.