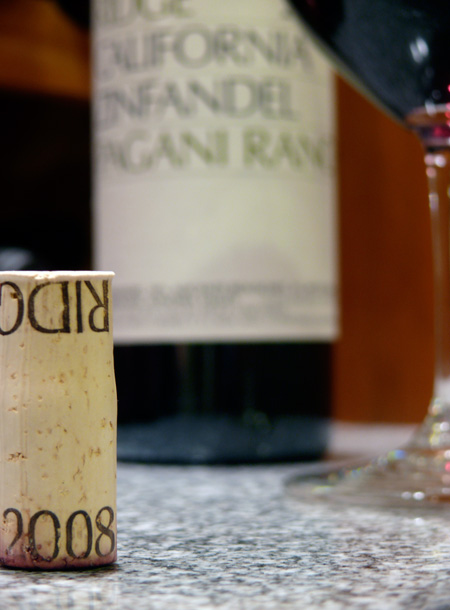 Ridge Vineyards
Pagani Ranch California Zinfandel
2008
15.0% ABV | Price: about $35

This wine is 85% zinfandel, 10% alicante bouschet, 3% petite sirah, and 2% carignane. It's a spectacularly well-crafted wine. Yes, it's a hot California (mostly) Zinfandel, one we might easily dismiss. But there's an attention to detail here that is quite evident, the difference between craftsmanship and commodity.
The nose is a little herbaceous, with anise and mint. It's a bit smoky, too, with aromas of deep, black fruit, warm from the sun. On the palate there's a little grip of tannin balancing the ripe fruits: black cherry, blackberry, plum. Maybe I'm crazy, but I think I can taste the petite sirah adding a bass note. It's the tiniest bit savory. The finish is lingering, dark, and warm.
This wine is sweet and lyrical, with detail and filigree. This wine is firm and well-formed: grounded, muscular, and wildly alcoholic. It is shifting and mercurial, now one thing, now the other; a little enchantment for Hallowe'en.