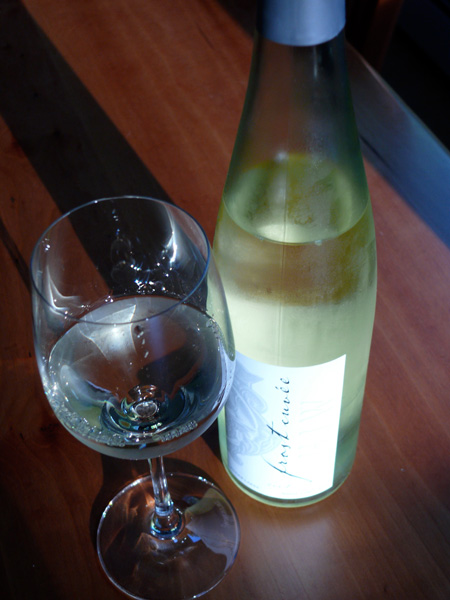 Hermann Wiemer
Frost Cuvée
2008
Current price: about $12
In early May we visited the Finger Lakes of upstate New York, part of the group attending TasteCamp East. We tasted a lot of Rieslings over three days. Most were sharp and cleansing, with strong acid that gripped our teeth. There were a few Gewürztraminers, some unmemorable Chardonnays, some completely forgettable reds. We left each tasting empty handed.
The last stop of the weekend was Hermann Wiemer. We understood why. Winemaker Fred Merwarth tasted us through nine samples, in bottle and in tank. Here at last were Rieslings with depth and complexity. They were broad and floral, with jasmine and citrus. They were bright, they were clean; they cut, but softly. Their Riesling "Magdalena Vineyard" 2008 rolled my socks down.
This Frost Cuvée is their bagatelle. It's a floor-sweepings wine, made with leftover this and that: a little riesling, a little gewürz, some chardonnay, some pinot noir. It is meant to be taken lightly. So pale it's almost colorless, a clear light yellow. Fresh aromas of citrus blossom and passion fruit are grounded by something stony underneath. On the palate it's juicy and succulent, with more citrus and jasmine and tropical fruits. Almost off-dry, maybe off-off-dry, with a long, clean finish. Bright.
We bought some wine at last.